100+/- acres in Graham, TX
4 bedroom house
Auction ends Wednesday, November 29th at 10am
565 Nevarez Rd., Graham, TX 76450
Auction is ONLINE ONLY
---
---
Generational opportunity to buy at auction 100 +/- acres just outside of Graham.
Land borders Brazos River Authority owned and city owned property.  Very isolated and insulated from visitors and development.
4 Bedroom home, incredible views, multiple building sites….an incredible approximate 4 acre tract with 100 mile views.
The tract has great elevation changes, from beautiful creekside lowland to magnificent horizon views.
---
Property will be available for tours Tuesday, November 14, 10a-5p
Showing on Saturday, November 25th – Appointment required
Please call or text 713.594.1576 for appointment
---
Please see directions for access.  The simplest access is through the Brazos River Authority Land.  That access will not show up on your GPS.
Call for tour outside of these times.
---
Property has:
2 Electric meters, 2 Water meters, 2 Septics

Extra Water shut off by the house for hose and house

Replaced fence along east south side

Trees trimmed back from roads and around the house
House has:
New multiple windows installed 2021 and 2022 and windows added

Water heater installed 2017

HVAC installed 2021, condenser 2022- space rebuilt and sealed to face inside

Plumbing replaced to pex lines after 2021 freeze

Multiple plugs replaced

Several new light fixtures

Paint interior and exterior of house 2022

Remodeled both bathrooms

Bedroom along the porch taken down to studs, replaced with new insulation, sheetrock, windows, closet, doors and plugs

New carpet in the 3 bedrooms
---
Tremendous sweat equity in this property.
Truly an opportunity to enjoy from day one and build a forever home, should you choose.
---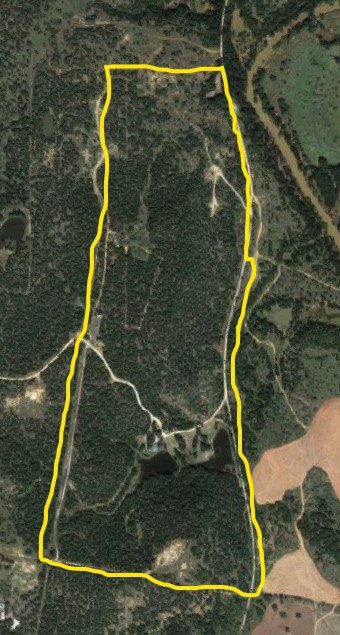 ---
---
---
---
---
Terms & Conditions
12% Buyer's Premium added to the winning bid price to determine total contract price.
No minimum bid, final bid subject to seller's confirmation.
Auction is ONLINE ONLY.
Extended online close: If a bid is placed in the last 5 minutes, the auction will automatically extend an additional 5 minutes.
Current price listed on MLS or other websites is not deemed a selling price. Many websites will not allow auction only listings.
Cooperating broker participation is offered. Contact the auction company to register your client and receive the terms.  Real estate agent MUST register client prior to client's first bid.
Closing & payment: High bidder (purchaser) must remit 10% non-refundable payment of the total contract price on auction day to Auction Escrow & Settlement. Balance to be paid at closing within 30 days. Purchaser must sign a non-contingency contract to close within 30 days of the auction date. Seller maintains the right to extend closing an additional 30 days.
Seller/owner/creditor reserves the right directly or through directing the auctioneer to recover equity and/or liquidate debt by placings bids on their behalf up to or equal to a level necessary to guarantee clear title with no tax issues, liens or encumbrances.
Disclaimer: Acreage and square footage dimensions are based on information provided by seller and are believed to be correct; however, purchaser &/or purchaser's agent/broker shall bear responsibility to confirm all calculations prior to the sale. Not available to residents of any state in which this real estate is not in compliance with the real estate laws of that state. All information provided or contained in a brochure was derived from sources believed to be correct but are not guaranteed.
Contact us for more info – [email protected] – 713.594.1576