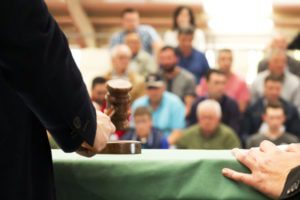 Auctions are exciting events. They quickly become serious events when they involve your property and your money. We understand and respect the fact that many times real estate auctions are transition times in the buyer's and the seller's experience and we are sensitive to those goals. Successful auctions are a product of experience, diligent planning, and implementation, as well as allegiance to our clients.
The auction process will work for you
Contact us and discover how profitable it can be
We understand the challenges in timely, cost-effective real property handling. We encourage you to objectively consider your real estate carrying, holding, and marketing cost. We are aware of your obstacles and can design a plan, through auction marketing, to address your concerns while achieving your goals. The word "auction" motivates potential buyers, propelling them into action. The seller benefits by dictating specific sales terms, determining the time and place of the sales event, and requiring the buyer to conduct due diligence prior to the auction. In essence, the seller retains control of the sale.
Auctions create urgency that immediately and suddenly change the dynamics of the purchase decision. It is VERY, VERY important to recognize and understand this shift. The buyer's thought processes are reversed in favor of the seller. The purchaser's primary concern now has shifted from "what is the least I can pay" to "what is the most I can pay and still have value." This is incredibly significant in achieving a market price. When advertising is targeted to prospective buyers and the pertinent property information is made available to them, the auction process can effectively consolidate a year's worth of marketing into a short and highly profitable four weeks. This is a tool that would benefit any real estate project. In today's business environment, what the time and money equation does not cover, the risk vs. reward concept addresses. A seller should always remember: real estate is a component of a larger transaction be it business or personal, not the product. Thus, the auction process makes for a smooth and uncomplicated closing by eliminating endless negotiations and contingencies.
Real Estate Auction discussion with Woodlands House n Home:
See Mark featured on The Lance Roberts Show:
Part 1:
Part 2: